2014 South University Commencement
Details

29

Jun

2014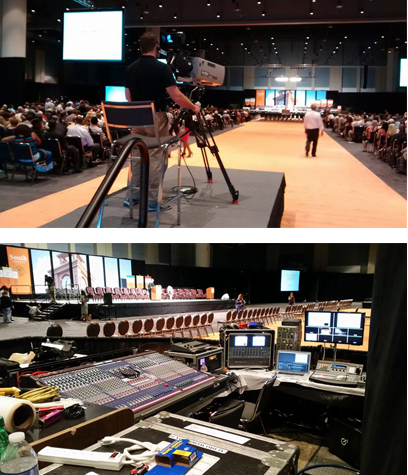 For the 8th consecutive year, eThree Media is proud to have been selected as the sole vendor for South University commencement activities in Savannah, Georgia. Over two days, four separate crews handled independent video projects that ran concurrently at the Savannah International Trade and Convention Center, including the main commencement ceremony itself, which is held in the full Exhibit Hall.
The Commencement ceremony required four (4) camera positions, switched live to six (6) large screens for over 7,500 people in attendance. The show included real-time keyed graphics for identifying speakers at the podium, along with full screen graphics that were both static and moving. Additionally, a sign language interpreter was boxed in a PIP window and brought in and out during spoken word sections of the program. 2014 also marks the first year that the switched live show was streamed to the Internet, where hundreds of additional viewers watched from all corners of the country.
"Our infrastructure and working knowledge makes us uniquely prepared in the southeast Georgia region to handle complex projects with so many moving parts," said Eric Darling of eThree Media. "Our crews have done this many times now, and we understand how to produce a high quality video product for a live setting with many eyes watching."
Watch the archived Livestream of the event as it happened.