Quarantine Concerts
Details

Published: Sunday, April 12 2020 20:10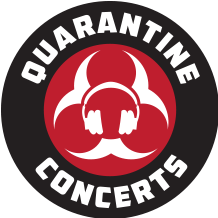 We are proud to be working with our good friends at Michael Gaster & Associates on a new series of empty venue concerts featuring Savannah area musical talent.
With the unprecedented impact of so many stay-at-home orders, performers and technical crew were suddenly thrust into a new world - a world where the paradigm of how to play for audiences just up and changed radically. In late March of 2020, Michael Gaster reached out to Eric Darling to discuss a partnership to bring the best of Savannah's music scene to the world, and Quarantine Concerts was born.
In the end, no more than five crew members produce each and every show at the perfectly spacious and well-appointed Tybee Post Theater.
Although the credit list that runs at the end of every live show isn't very long, it's jam-packed with the names of people who have made a full commitment and tireless effort... Charrisa Murray of DeVivo Marketing, who handles the web site and all social media. Brad Binion, who sets and runs lights, mics and literally simultaneously runs a camera during the events (we don't know how he does that, either). Doug Suttle, who runs a camera, is also heading up a secret squirrel 3D project. Eric Darling runs the video department, directs the shows, and handles post-production. And last, but not least, Michael Gaster curates the musical program and provides the live mixing that makes Quarantine Concerts so worth the listen.
Some of the local acts gracing the Tybee Post stage (online) have been Lulu the Giant, the Eric Jones Trio, Bero Bero, Lyn Avenue, Draucker! and Phantom Wingo, among a growing list of many other talented and generous musicians who are providing a wonderful online escape for as many people as possible. Together, we stand for musicians who deserve an audience, and an audience who deserves a best effort at delivering the highest quality viewing and listening experience in a live steaming environment.
While "tickets" are sold for events, they are merely suggested donation amounts. These donations go to benefit the musicians, venue and production crew, who all sincerely appreciate even the smallest of contributions from an appreciative audience. You can catch previously streamed concerts on the Qurantine Concerts Videos page. We hope you enjoy!