eThree Media Appreciates Client Feedback
Details

Published: Saturday, September 28 2019 13:34
As 60% of businesses now spend more than a quarter of their marketing budget on video, it is clear that video has become a preeminent form of marketing for organizations of all types and sizes.
As a Savannah-based video production company, eThree Media employs decades of professional experience to create useful videos for our clients. We rely on client feedback to ensure we are consistently delivering quality videos, so we are grateful for companies like Clutch that allow us to receive vetted, high-quality client feedback that we can trust.
Clutch is a research platform for B2B service providers. On their website, they rank and review B2B companies and even feature feedback from clients. On Clutch, a prospective client can explore our previous projects.
One of our recent projects was for a regular client who is a major healthcare services provider. We produced a video that incorporated drone footage with graphics to highlight the growth expected for their organization in the next few years. The Marketing Manager of this healthcare provider left the following review and rating: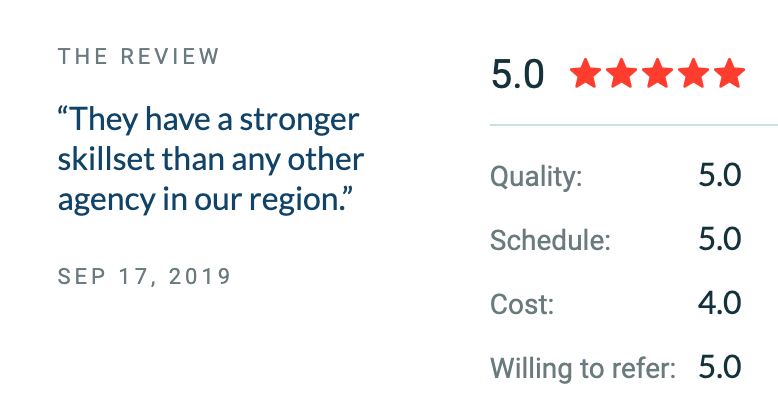 At eThree Media, we take client relationships and client feedback very seriously. We want to make sure that our end results meet the client's needs, and getting their feedback is the best way to do that. Because of our emphasis on client satisfaction, we have been able to build long-standing relationships with various clients, something we are very proud of. This client is an example of an ongoing relationship we have developed over the years, and here is another quote from their Marketing Manager:
"We've worked with them for the past twenty years. They're our go-to agency for all of our audio and video needs."
eThree Media was also featured as a top video production company on The Manifest, Clutch's sister site. You can learn more about us (#114) on The Manifest, which is another buyer's guide for B2B services.
Visual Objects is a website where prospective clients can go to watch some of our latest videos. Video marketing is one of the most effective marketing tools, and an eThree Media video can help increase your market presence.
A quote from a Forbes article says that "Your brand is not a stagnant strategy on a piece of paper — you must bring it to life." You can bring your brand to life with a high-quality video, and at eThree Media we are prepared to create video products that will achieve your goals.
Contact us today about how we can create video content that will compel your audience, support your brand and grow your business.